In this issue:
In Our Opinion: "Modern Marketing" Trends
Article and Book Recommendation:  

Mastering The Art of Mobile Persuasion by Jeff Hasen

Career Opportunities:

VP, Marketing – Financial Services/Collections – NEW
Global Marketing Manager – Travel/Hospitality – NEW
Marketing Leader – Northeast Region – NEW
Managing Director, Digital Marketing as a Service (MaaS)
Chief Creative Officer
Digital Strategist – Senior Manager
Marketplace Marketing Leader

Upcoming Professional Development Events
---
In Our Opinion by Jeff Gundersen & Lola White
"Modern Marketing" Trends
For quite sometime now, we have been writing about the rapid pace with which Marketing is tilting onto a digital- and mobile-first axis. The underpinnings of this shift are undoubtedly the rapid scaling of tablets and other mobile devices (smart phones and more recently smart watches – even though Apple's Smart Watch has been less than a resounding success to-date).
Since the launch of the iPad on April 3, 2010, tablets have become the fastest technology adoption in all of history…reaching 50%+ of U.S. households in less than 5 years…more than doubling the adoption rate of all previous technology innovations including the PC, Internet, TV, Cable Radio, VCR, and other technology devices.
As tablets were quickly adopted by consumers, what followed was the rapid scaling of mobile advertising. "Tablets Rising" a global mobile advertising study conducted by Vivaki/Publicis Group confirmed some interesting findings…consumers are spending an average of 90 minutes daily on tablets/mobile devices…and tablets have become the new "first screen" even if consumers are also watching television. Also, the Vivaki study showed over two-thirds of consumers are active in Social Media networks which has become a new source of consumer influence (positive and negative) regarding brands.
But the most profound finding in the Vivaki study was…tablet ads work…and they are even more effective for highly engaged tablet users. Finally, after years of waiting, 2015 has become truly the year of exceptional growth for mobile advertising….as underscored by Facebook's Q2 2015 revenues exceeding $4B+ (with $2.9B+ or 75% coming from mobile advertising).
As a help to our clients and readers, we are including an article and book recommendation from our friend and CMO, Jeff Hasen, who has recently authored his second book titled, "The Art Of Mobile Persuasion." With mobile advertising rapidly growing, this is an art and mastery every marketer needs to develop.
What do these "Modern Marketing" trends mean in terms of the shift in talent needs for both advertisers and agencies?
From our perspective, the highest demand positions currently include Chief Data Officers, Heads of Marketing Analytics, Chief Digital Officers, Digital Strategy & Marketing Leaders, and Customer Engagement/Experience Leaders.  With consumers shopping through tablets, smart phones, and other mobile devices as a first option, marketers are transforming their businesses to offer relevant omni-channel customer engagement. And the "new relevant" means the right communication, to the right consumer/prospect, at the right time, in the right place.
Successful campaigns are now happening "real-time," as geo-targeting is enabling brands to identify their best customers and prospects in relation to their proximity to the brand or a competitor's outlet…and in that moment deliver a compelling offer and incentive to shop/purchase.
While brand advertising still has its place, the growing demand (and higher compensation premium) is for marketers with analytics and data skills, knowledge of newer marketing technology platforms, and digital strategy and marketing skills. Its an exciting time…the next generation of marketing leaders include many with M.S. and PhD. degrees in Mathematics & Statistics, as well as many B.S. Engineering professionals with M.B.A. degrees.
It wasn't that long ago there was a time when senior marketing officers said we know half (50%) of advertising works…we just don't know which half. Those days, and those marketers, are in the rear view mirror as new "Modern Marketing" is about KPIs and metrics…to deliver reports back to the CEO and CFO on Marketing ROI.
As always, we welcome your input, and we look forward to hearing from you.
Best,
Jeff and Lola
---
Article and Book Recommendation
by Jeff Hasen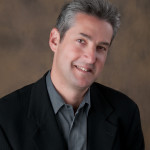 Welcome to the 21st century love affair.
Long-time adman Hank Wasiak, the former vice chairman of McCann Erickson, says that people don't have a relationship with a television set or their computer, but they do with a mobile phone.
It is part of them.
The central question for today's businesses…Can they enhance the relationship or is three a crowd?
In truth, mobile users are like teenagers. They want to be understood. But they will fight to maintain their privacy.
What is a brand to do?
Be of value and non-intrusive.
And don't be creepy.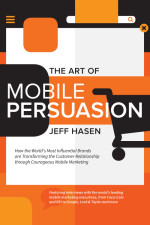 For my new book, The Art of Mobile Persuasion, I spent a year talking to some of the most courageous mobile marketers working today. Insights from Expedia, Lowe's, REI, Google, ESPN, and others are applicable to anyone seeking to create a better kind of consumer engagement on the devices that are never out of reach.
Out of the discussion came a number of relationship turnoffs.
Here are words to describe those businesses that are flailing:
Selfish. In outreach to mobile users, there needs to be a specific need that benefits the customer. Jonathan Stephen, who drove innovative mobile programs at JetBlue, points to the greed of some who seek to needlessly uncover such inconsequential details as how many sugars
wireless owners put in their coffee, and, if they used Splenda or Truvia.
Illogical. If only more mobile marketers would practice common sense. For example, why in the world would a business create an iPhone app if their customers are mostly or completely Android owners? That's just dumb.
Timid. Coca-Cola, one of the world's most recognizable, beloved, and successful brands, isn't being passive. Instead, it is fulfilling its long-established mission of enabling desire in an increasingly-large part through the use of wireless devices.
Impulsive. Sean Lyons, Global Chief Digital Officer at communications agency Havas, chides those who go to such conferences as South By Southwest and unilaterally seek to determine which products and services will matter. Why? The consumer is going to decide.
Inattentive. Google's Jason Spero refers to consumer actions on mobile devices as signals, rich with information that tells marketers a great deal if they are on the lookout for them. But many regrettably aren't.
---
Career Opportunities
We have career opportunities at a variety of companies including a Global Data/Direct Marketing Services Company, a Global HR Professional Services firm, one of the largest Global Digital Agencies, a Privately-Owned Direct/Digital Agency, Travel/Hospitality and a Non-Profit Student Loan Collection. Please take a moment to click on a link and see the complete position description: