In this issue:
It's Really The Year of Mobile!
Karen Lithgow joins EC as Managing Director
TGSLC Hires Donna Fritz as VP, Marketing
Career Opportunities:

Head of Corporate Branding & Communications – Life Insurance/Annuities
Sr. Mgr., Digital Strategy
Global Head – Analytics & CRM – FILLED
VP, Marketing – Collections- FILLED
---
It's Really The Year of Mobile!
In a recent AdAge article by Maureen Morrison, she highlighted according to EMarketer, 2016 will be the year mobile ad spending eclipses desktop ad spending. EMarketer goes on the project by 2019, mobile advertising will exceed $65B+ and will represent 70% of total digital ad spending and 30% of total media spending.
That's quite a staggering and rapid growth rate and it underscores why Google (32% share) and Facebook (19% share) , the 2 mobile advertising juggernauts, will continue to grow exponentially and become the largest and most profitable global digital media companies. This also explains why Apple and other mobile phone and device manufacturers are making screens larger; it's because we are in a new era of mobile-first marketing, meaning consumers are seeking and accepting marketing messages realtime, including geo-targeting which is enabling marketers and brands to reach consumers in real time at (or near) the point of purchase. Mobile-first has enabled new promotion marketing, including instant in-store coupons, and real-time loyalty marketing incentives. And it's still early days for mobile, with ad tech companies developing new ad formats, and marketers focused on delivering relevant, targeted content messages and ads/offers conducive to the smaller mobile screens (especially mobile phones).
The automotive sector, which has been one of the bright spots in a slow growth US economy, are among the early innovators in mobile marketing. Companies including Ford and GM are utilizing geo-targeting to identify car buyers in proximity to local dealerships (and competitive dealerships), and delivering real-time offers and incentives to encourage dealer visits and test drives. In 2015, the auto sector spent $3.4B+ in mobile ads, representing 47% of total digital ad spending, which shows the auto sector is ahead of the curve in leading mobile ad innovation. One in four car buyers utilize mobile every day to research vehicles, so marketers with adept analytics are using predictive algorithms to send targeted offers to car buyers.
Retail, financial services, travel, and telecom are the other largest sectors in terms of mobile ad share and spending increases. So it's easy to see mobile advertising is broad-based and growing across most major sectors.
Where does your company and brand fit into this mobile-first transformation? Are you a leader and innovator, or a laggard?
As always, we welcome your input and comments.
Best,
Jeff Gundersen & Lola White
---
Karen Lithgow joins EC as Managing Director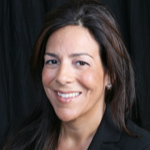 KAREN V. LITHGOW – MANAGING DIRECTOR, GLOBAL MARKETING
Karen Lithgow is a senior-level marketing executive and consultant with a distinguished track record of building world-class brands and global marketing organizations. Her most recent role was Senior Vice President, Corporate Marketing for ADT, a leading provider of security and automation solutions for homes and businesses, where she led all of ADT's integrated multi-channel marketing, including both digital and traditional marketing.
Prior to ADT, Karen led her own independent marketing consulting practice serving Fortune 100 clients and non-profit organizations. She also held various leadership roles for Western Union International, including Vice President/General Manager of Western Union's International Remittance business, leading the U.S. business to Latin America, Europe, Middle East, Africa, South Asia, Asia Pacific, and the Caribbean.
Karen's roots in Global Marketing trace back to Disney Consumer Products and Procter & Gamble, where she managed Character Brand and Film & TV properties for Disney, and received her initial marketing training in Brand Management at Procter & Gamble.
Ms. Lithgow holds a Masters of Science degree in International Business from Georgetown University, and a Bachelors of Arts from the University of Pennsylvania. She is bilingual in Spanish and English and conversant in Portuguese and Italian. Karen holds several leadership roles in civic and community organizations and serves as a Board member for several non-profit organizations. She resides in Miami, Florida with her family.
EC is pleased to welcome Karen to our executive search consulting and marketing strategy consulting team.
---
TGSLC Hires Donna Fritz as VP, Marketing
Texas Government Student Loan Corporation ("TG") recently hired Donna Fritz as VP, Marketing. The company is a well-established non-profit organization with expertise in collection of student college loans. With regulations changing the future outlook for this sector, TG is shifting their focus to build "for profit" businesses in closely-related areas to leverage their core competencies of customer service and accounts receivable and debt collection.
Donna was previously VP, Marketing & Product Management at Take Supply Chain, a SaaS software and services division of a global B2B company and at TG she is leading a marketing transformation including new product and services offerings and B2B demand generation in collaboration with a new VP, Sales and VP, Alliances.
EC handled this exclusive retained search assignment for TG and is providing Donna our unique career transition support service to assist in her successful transition.
Congratulations Donna and continued success!
---
Career Opportunities
We have career opportunities at a variety of companies.
Take a moment to click on these links (below) for the complete position description:
Global Head – Analytics & CRM – FILLED
VP, Marketing – Collections- FILLED
Learn more about our Career Opportunities…
---